Kuch Rang Pyaar Ke Aise Bhi: Sonakshi-Dev's immense magnetic love annoy Ishwari (Upcoming Twist)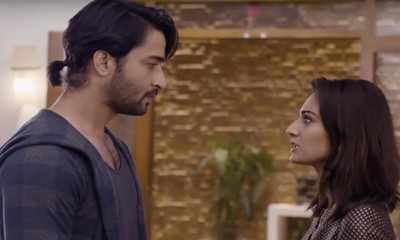 Sonakshi (Erica Fernandes) and Dev's (Shaheer Sheikh) immense magnetic love annoy Ishwari in Kuch Rang Pyaar Ke Aise Bhi
Kuch Rang Pyaar ke Aise Bhi on Sony have been showing progress in Dev (Shaheer Sheikh) and Sonakshi's (Erica Fernandes) love story.
Dev and Sonakshi no matter how much so ever fight with each other always land up coming closer in the end.
As we all know that Sonakshi have already received a threat from Khatri which Dev was completely unaware about.
Sonakshi preferred not telling Dev as Dev would have killed Khatri in anger for eyeing Dev's love towards Ishwari.
Dev comes for Sonakshi's rescue
On the other hand Dev thinks that Sonakshi is hiding away Sonakshi's affair with Jatin and starts following Sonakshi.
Sonakshi falls in real trauma when Sonakshi gets into trouble because of Khatri.
It would be interesting to watch as to how would Dev get into middle and save Sonakshi from Khatri's goons?
Stay tuned for further details and developments in story line.
Latest Kuch Rang Pyar Ke Aise Bhi Updates