Tujhse Hai Raabta: Malhar breaks marriage with Kalyani like never before (Upcoming Twist)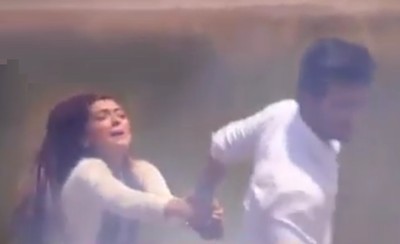 Tujhse Hai Raabta: Malhar breaks marriage with Kalyani like never before
The current track in ZEE TV Serial Tujhse Hai Raabta will witness ahead major high intensity melodrama in the storyline.
Atul has returned back for Rao Saheb last rites that he separates Kalyani away from Malhar.
While Malhar is really broken down with the storm ongoing in his life, Kalyani's separation comes as another trauma for him.
Malhar is doing his mother's last rites that he wants to move on in his life with Moksh and free Kalyani from this burden of marriage.
Kalyani all broken in deep trauma
Malhar grabs Kalyani's hand and thus completes the reverse rounds arond the pyre while he wants to break his marraige with Kalyani.
Kalyani is broken in tears and refuses to Malhar but stubborn Malhar goes on taking reverse rounds.
It will be enthralling to watch what will happen next in the show.
Keep reading for more coming updates.
Latest Tujhse Hai Raabta Updates