Dil Toh Happy Hai Ji: Rocky spoils RV and Happy first kiss of love (Upcoming Episode)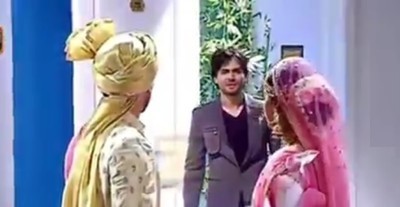 Dil Toh Happy Hai Ji: Rocky (Ansh Bagri) spoils RV (Rohit Purohit) and Happy (Jasmin Bhasin) first kiss of love
The viewers and the avid fans of the show Dil Toh Happy Hai Ji will get to see extreme drama in the coming storyline.
RV and Happy finally get married and thus step in their new love life.
But Rocky seems to not let Happy live in the evil den of the disgusting guy RV.
Soon, RV and Happy will have their first wedding night where RV will confess his love to Happy.
RV passionately hugs Happy but before he could share some intimate moments with wifey Happy, Rocky makes his hero entry grabbing RV's neck.
RV and Rocky's cold war for Happy
Even after RV married Happy, RV will not be able to live a happy life with Happy as his payback time has begun.
Happy is playing her secret game behind marrying RV meanwhile, Rocky has also warned to not let RV ruin Happy's life.
It will be quite interesting to watch what new twists and turns will come up in the show.
Stay tune for more upcoming updates.
Latest Dil Toh Happy Hai Ji Updates