Bepanah Pyaar: Sukanya Fake Love trap for Raghbir Pragati savior (Upcoming Twist)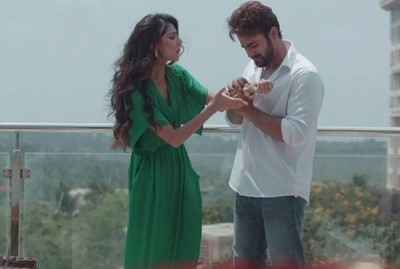 Raghbir (Pearl V Puri) getting trapped in Sukanya's (Devika Singh) fake love mayajaal in Bepanah Pyaar
Colors daily soap Bepanah Pyaar is seeing a very heart wrenching cum interesting track.
Raghbir is getting stuck in a dilemmatic situation where Sukanya is claiming her affair with him.
Though Raghbir only loves his wife Bani, he refuses to accept Sukanya.
The twist in tale is that Sukanya and her bodyguard is playing a nasty conspiracy against Raghbir.
Pragati to save Raghbir from Sukanya
Sukanya and her bodyguard are plotting clues to make Raghbir believe that he was in relation with Sukanya in London.
And there Pragati tracks down truth when she sees the bodyguard slitting Sukanya's nerve of hand and eventually Raghbir is blamed for physically assaulting Sukanya.
Let see how Pragati will turn savior to Raghbir.
Stay tune for the more coming updates.
Trending:
Latest Bepanah Pyaar Updates