Krishna Chali London: Deadliest trouble for Veer Krishna Mohan kidnaps Veer Mom (Upcoming Twist)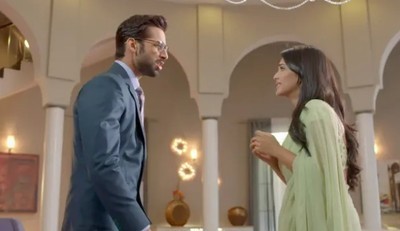 Krishna Chali London: Deadliest trouble for Veer (Karan Vohra) and Krishna (Megha Chakraborty) as evil Radhey aka Mohan (Mayank Arora) kidnaps Veer Mom
Star Plus daily soap opera Krishna Chali London is seeing high voltage track in the current storyline.
It seems that Sunaina's nasty conspiracy to separate Veer and Krishna will now take troll on her life.
Veer and Krishna are shocked to know about Sunaina's hand behind plotting Mohan as Radhey.
While Veer is really hurt with his Mom's such betrayal,Krishna consoles him.
That here shockingly Mohan kidnaps Sunaina when he finds that Veer Krishna learned his truth.
Sunaina in deadly danger
Sunaina's nasty conspiracy has cost her own life where now she is captivated in Radhey aka Mohan's evil den.
It will be highly intensify to watch how Veer and Krishna will save Sunaina fighting back evil Mohan.
Stay tune for the more coming updates and latest news.
Latest Krishna Chali London Updates