Dil Toh happy Hai Ji: RV's disgusting trick on Happy to intimate on Honeymoon (Upcoming Episode)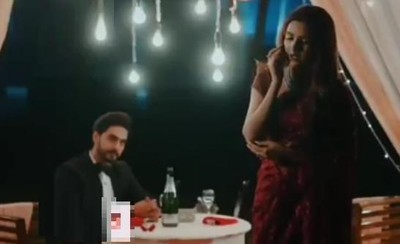 RV's disgusting trick on Happy to intimate on Honeymoon in Dil Toh happy Hai Ji
In the latest TV track of Dil Toh Happy Hai Ji,
RV (Rohit Purohit) will apply his dirty trick on Happy (Jasmin Bhasin).
Happy has married RV for revenge and to protect Rocky and her family.
But it seems that the mission is becoming really challenging for Happy to lead.
Happy and RV come on their honeymoon where RV planned a romantic dinner date for Hapy.
And this will now cost Happy when she will drink RV's spiked drink.
Happy in major mess
RV has determined to get intimate with Happy amid this honeymoon trip and not let Happy think about Rocky.
Will Happy be able to protect herself from RV's ugly plan?
What will Happy do now?
Latest Dil Toh Happy Hai Ji Updates