Kulfi Kumar Bajewala: Amyra reveal a darkest secret of life stunned family (Upcoming Episode)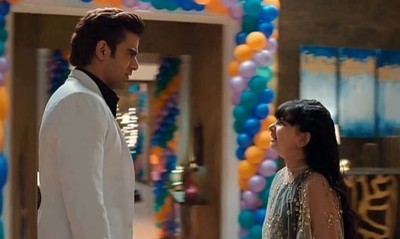 Amyra opens up Tevar and her blood relation in Kulfi Kumar Bajewala
The current track in Kulfi Kumar Bajewala is witnessing lots of twists and turns in the storyline.
Sikandar and Lovely plan Kulfi's birthday bash where the family and Kulfi's friends have a gala time.
But what comes really shocking is Amyra's arrogant attitude towards Kulfi amid the celebration.
Amyra smashes Kulfi's face in the cake that angry Sikandar pushes Amyra.
Amyra has already hold grudge against Kulfi and Sikandar after learning about Tevar being her real father.
That finally, the time comes when Amyra screams out the truth before everyone.
Big shocker for Gill Family
Tevar and Amyra's blood relation is only known to Sikandar and Lovely that Amyra's revelation stuns everyone to hell.
The Gill Family stands stunned hearing Tevar and Amyra's father and daughter relation.
How Sikandar and Lovely will face this worse situation and Amyra's questions?
Stay ahead with serialgossip.com
Latest Kulfi Kumar Bajewala Updates