Patiala Babes: Hanuman Mini's bond weakens post marriage with Babita (Upcoming Twist)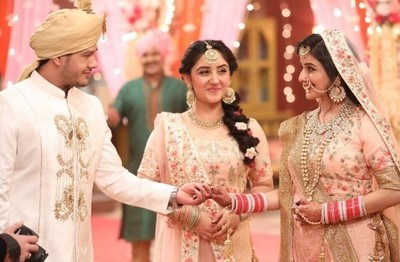 Patiala Babes: Hanuman (Aniruddh Dave) Mini's (Ashnoor Kaur) bond weakens post marriage with Babita (Paridhi Sharma)
The upcoming episode of Sony TV show Patiala Babes will showcase interesting twist and turn.
It was earlier seen that Mini makes arrangement of Hanuman and Babita's marriage.
Mini happily unites the love birds but just before Hanuman and Babita's wedding, her first marriage video with Ashok plays.
Hanuman gets irked with the same and scolds Mini.
Mini clarifies self and reveals that she did not do the same while Hanuman refuses to believe her.
Babita supports daughter Mini
Babita supports daughter Mini and dismiss the situation.
This misunderstanding leads to minor crack in Hanuman and Mini's relation.
Now Mini feels insecure with Hanuman and Babita's closeness and feels like Babita is gone away from her.
Keep reading for more development on Patiala Babes.
Latest Patiala Babes Updates