Kasauti Zindagi Ki 2: Final war begins amid Anurag and Bajaj for Prerna on Durga Pooja (Upcoming Twist)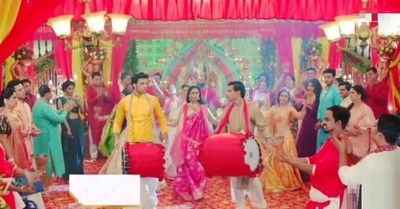 Kasauti Zindagi Ki 2: The final war begins amid Anurag and Bajaj for Prerna on Durga Pooja
The final war is about to begin amid Anurag and Bajaj for Prerna.
The thriller episodes of Kasauti Zindagi Ki 2 are going to bring further face off fight amid Anurag and Bajaj for Prerna.
Recently seen how Prerna gets attracted towards Anurag reviving her old love.
Bajaj fails to gulp Prerna's such increasing closeness with Anurag.
Meanwhile, Veena blesses Anurag and Prerna together by hugging them and this is what infuriates Bajaj's anger.
Amid the Durga Pooja, Bajaj will come with Dhol opposite Anurag and that's how Prerna gets tensed seeing Bajaj and Anurag's unspoken grudge against each other.
Bajaj strives to get Prerna
Bajaj has determined to not loss Prerna to Anurag while Anurag has decided to get Prerna back from Bajaj.
Let see who will win this war and what Prerna will do next.
Stay updated with serialgossip.com
Latest Kasauti Zindagi Ki 2 Updates