Kasauti Zindagi Ki 2: Bajaj holds Prerna's hand to convince Prerna leave Anurag (Upcoming Episode)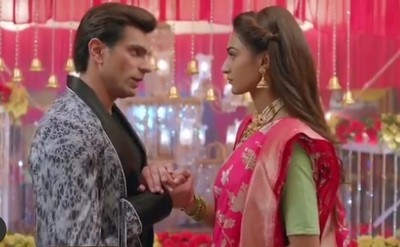 Kasauti Zindagi Ki 2: Bajaj holds Prerna's hand fakes love drama to target Anurag
The upcoming episode of Kasauti Zindagi Ki 2 is going to see ups and downs in Anurag and Prerna's love life.
Anurag is going to become the victim of Bajaj's big fat conspiracy.
Bajaj puts all the blame on Anurag while he also does innocent drama before Prerna.
Bajaj pretends before Prerna that he doesn't want to take any action against Anurag as she loves him.
Where Prerna feels heartbroken and guilty, Bajaj now holds Prerna's hand as soon as he sees Anurag coming towards them.
Bajaj plays mind game
Bajaj has played his good game to trap Anurag and prove him the real culprit.
Prerna also believes Bajaj blindly and feels upset.
Bajaj now compels Prerna to leave Anurag.
Let see if Prerna will agree to leave Basu mansion and Anurag after the fire accident with Bajaj.
Latest Kasauti Zindagi Ki 2 Updates