Kahan Hum Kahan Tum: Mahesh to kidnap Sonakshi in presence of Rohit stays unaware (Upcoming Twist)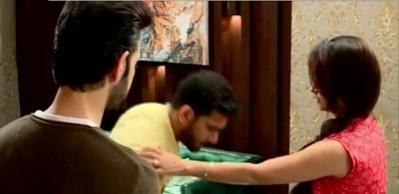 Kahan Hum Kahan Tum: Mahesh to kidnap Sonakshi in presence of Rohit stays unaware
Further coming high time twists and turns will see Mahesh's madness taking troll on Sonakshi.
Rohit and Sonakshi's marriage is on the head while Mahesh has determined to stop this marriage at any cost.
Therefore in the upcoming episode story of Kahan Hum Kahan Tum, Mahesh will act innocent and needy before Rohit and Sonakshi.
Although Rohit refuses to give any job to Mahesh, Sonakshi convinces Rohit and thus they keep him as a driver.
Shockingly Mahesh will kidnap Sonakshi in the very presence of Rohit and Rohit will stay unaware.
Sonakshi to face deadly danger
Sonakshi will soon go missing while Rohit and the families will stay unaware of the same.
It will be highly intensified to watch how soon Rohit will rescue his lady before it gets too late for him to take any action.
Keep on reading serialgossip.com for more updates and latest news.
Latest Kahan Hum Kahan Tum Updates