Mere Dad Ki Dhulan: Amber Guneet's nok jhok transforms into perfect jugalbandi (Future Story)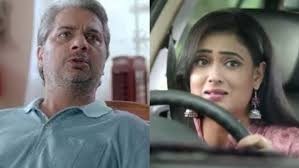 Mere Dad Ki Dhulan: Amber (Varun Badola) and Guneet's (Shewta Tiwari) nok jhok transforms into perfect jugalbandi
Sony Entertainment Television popular daily soap Mere Dad Ki Dhulan is gearing up for new twist and turn.
Amber and Guneet already had a bitter encounter and don't want to see each others face again.
Here Nia brings Guneet to her house as new tenant and thus encounter of Amber and Guneet brings a blast.
Guneet and Amber's blast is going to be dhamakedar, while Nia couldn't bear it and bursts at both.
Amber and Guneet's nok jhok twist
Nia asks them to adjust and try to think of her as well, Guneet and Amber thus agrees to make adjustment.
While Guneet and Amber's nok jhok doesn't seems to end anywhere soon.
These nok jhok of Amber and Guneet adds fun tadka in their life and will soon transform into perfect jugalbandi of relationship.
Latest Mere Dad Ki Dulhan Updates