Nimki Vidhayak: Anaro recalls Babbu's death Nimki's truth revealed (Upcoming Twist)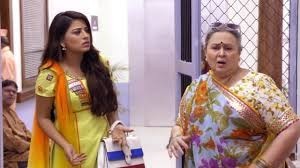 Nimki Vidhayak: Anaro recalls Babbu's (Abhishek Sharma) death Nimki's (Bhumika Gurung) truth revealed
Star Bharat popular daily soap Nimki Vidhayak is up for new twist and drama.
Nimki and Minto are doing all drama for Anaro and here Minto has turned Babbu just for her.
Nimki don't want Anaro to get trauma of her son Babbu's death and thus has taken Minto's help.
Nimki is bearing all as she is living with Minto just to keep Anaro happy and doing what all Anaro wants.
Anaro recalls Babbu's death
While here Anaro will soon recall past and how Babbu took his last breathe in her hands and will be shocked.
Not only this she will throw water at Nimki for lying to her, Minto is shocked and asks Anaro as what she is doing.
Nimki although realize that Anaro must have recalled all and how she will react now, will Nimki be able to handle Anaro after this realization syappa.
Stay tuned for more exciting updates of the upcoming episodes only on serialgossip.com
Latest Nimki Vidhayak Updates