Sanjivani 2: Shashank's death drama makes Sid realise fatherhood love (Upcoming Twist)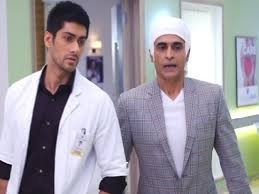 Sanjivani 2: Shashank's (Mohnish Bahl) death drama makes Sid (Namit Khanna) realise fatherhood love
Star Plus popular daily soap Sanjivani 2 is gearing up for high voltage drama at Sanjivani.
Sid has learned a shocking truth about Shashank and he himself is all broken by this.
Sid confronts Shashank and accuses him for ruining his life and how he had always been called an orphan even though he had a father.
Shashank feels bad and recalls the past, as he was driving the car and ends up having an accident.
Shashank verses Sid's emotional trauma
Shashank is brought to Sanjivani and here Sid refuses to operate on Shashank as he couldn't.
Here Juhi treats Shashank but fails to save him, here Juhi announces Shashank's death and Sid is shattered.
Sid realise that Shashank was his father and today he had really turned an orphan, is this Juhi's way to make Sid realise fatherhood love or Shashank will really die.
Latest Sanjivani 2 Updates