Choti Sardarni: Not Sarabjit but Harleen stops Meher's abortion (Upcoming Twist)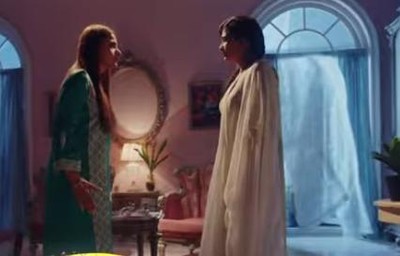 Choti Sardarni: Not Sarabjit (Avinesh Rekhi) but Harleen stops Meher's (Nimrat Kaur Ahluwalia) abortion
Colors show Choti Sardarni will showcase interesting twist and turn.
It was earlier seen that Harleen insists Meher to abort her child and stay with Sarabjit or else she will break all ties with her.
Meher left with no other option seeing the daily fights in their house decides to abort the baby.
Meher heads in the operation theatre where Sarabjit comes to know about Meher's drastic step.
Sarabjit thus warns Harleen that he will commit suicide if Meher aborts her child.
Harleen might not accept the baby but Meher
Hearing this big thing, Harleen's heart melts and she stops the abortion process of Meher.
It would be really interesting to see if Harleen accepts the baby with Meher too.
Stay tuned and keep reading serialgossip.com for more updates on Choti Sardarni.
Latest Choti Sardarni Updates