YRKKH: New challenge for Naira Gayu to get Kairav Vansh rights in Goenka family (Upcoming Story)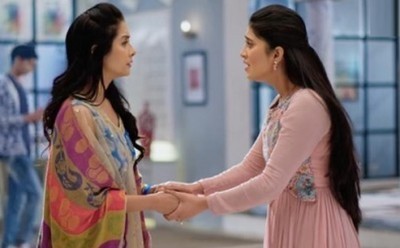 Yeh Rishta Kya Kehlata Hai: New challenge for Naira Gayu to get Kairav Vansh rights in Goenka family
New challenges are coming forth Naira and Gayu in the upcoming episode story of Yeh Rishta Kya Kehlata Hai of Star Plus.
Naira and Kartik come to know about Kaira, their long lost daughter who was swapped with dead girl child at the time of birth,
Meanwhile Samarth urges Gayu to send Vansh to his paternal family.
Things will now be taking a drastic troll and thus Gayu and Naira will stand strong to fight for their kids rights.
Naira and Gayu's agnipariksha face off Dadi
The family will refuse to believe the story of Kaira.
On one side, Naira wants the family to accept Kaira while Gayu wants Samarth to abandon his stubbornness of sending Vansh to his paternal family.
Let's see what new twists and turns will come in Yeh Rishta Kya Kehlata Hai post the major twist.
Stay tuned to Serialgossip.com for more updates and latest news of top TV shows.
Latest Yeh Rishta Kya Kehlata Hai Updates