Shilpa Shetty's son Viaan following her footsteps turns internet sensation (Bollywood latest gossip)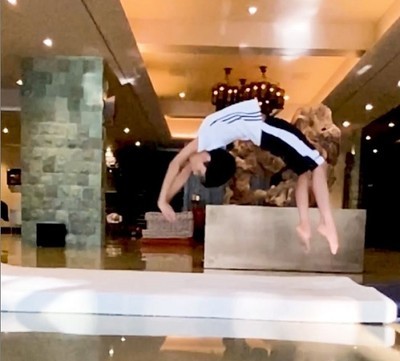 Shilpa Shetty's little champ Viaan following her footsteps turns internet sensation
Shilpa Shetty Kundra little champ Viaan is breaking the internet with his back flip gymnastic move.
Taking to the Instagram, Shilpa Shetty shared how seeing her and Raj practising yoga, Viaan started taking interest in his health and fitness.
Where Shilpa Shetty got him enrolled in gymnastics where she believes that practise will only make him perfect.
Shilpa Shetty shared a video where little Viaan is doing a back flip and that's what is stealing everyone's attention.
Shilpa Shetty and Raj Kundra feeling proud
Where Viaan is getting lots of praise from celebrities, Shamita Shetty feels blessed while dad Raj Kundra is feeling proud of his son.
Tiger Shroff is thinking to take training from his little brother.
Recently Shilpa Shetty and son Viaan were seen sharing lovely moments with the little princess Shamisha.
Stay tuned with serialgossip.com for more bollywood latest gossip.
Latest Shilpa Shetty Kundra Updates