Kumkum Bhagya: Maya exposed, Pragya Prachi's new master plan to rescue Ranbir (Upcoming Episode)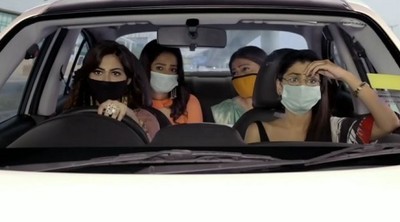 Kumkum Bhagya: Maya exposed, Pragya Prachi's new master plan to rescue Ranbir
Popular ZEE TV serial Kumkum Bhagya is finally going to end Maya's dirty game that she is playing against the innocent couple Ranbir Prachi.
Pragya, Prachi, Sarita Behen and Sahana all get in action to catch Maya.
Maya plotted her suicide death trapping Ranbir in her murder case where her evil father even got Ranbir arrested.
Pragya and Prachi finally get hold of Maya where the ladies trap Maya in the hotel room.
Pragya and Prachi to end Maya's game
Pragya and Prachi have determined to save Ranbir from the fake murder allegations.
Thus, the duos women make a master plan to take Maya to Ranbir's house to expose her dirty game.
It is going to be more interesting to watch how Pragya and Prachi will now end Maya's game.
Stay up to date with Serialgossip.com for popular top TV shows and Hindi serial.
Latest Kumkum Bhagya Updates