Ek Duje Ke Vaaste 2: Shravan's love letter for Suman to decide future story (Future Story)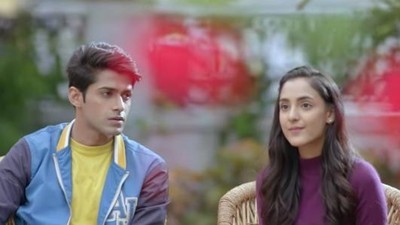 Ek Duje Ke Vaaste 2: Shravan's (Mohit Kumar) love letter for Suman (Kanikka Kapur) to decide future story
Sony TV trending serial Ek Duje Ke Vaaste 2 is showcasing interesting love story of Shravan and Suman.
Shravan loves Suman a lot and also wants to confess love.
However Suman tags Shravan as her best friend only and limits their friendship.
Shravan is unable to digest this as he loves her a lot and cannot limit his friendship.
Now Bunty gives a solution to Shravan where he asks Shravan to pen down his love feelings and give the letter to Suman.
Shravan hits Suman mistake turns into cute romantic moment
Bunty keeps on teasing Shravan where he goes to hit Bunty with the cube where Suman makes her entry gets hurt.
Shravan and Suman have a caring romantic moment for few seconds.
Let's see if love letter decides future story of Shravan and Suman.
Till then continue reading for latest updates on Hindi serials.
Latest Ek Duje Ke Vaaste 2 Updates