Yeh Rishta Kya Kehlata Hai: Kartik Naira's to adopt Chori unaware of her real identity (Future Story)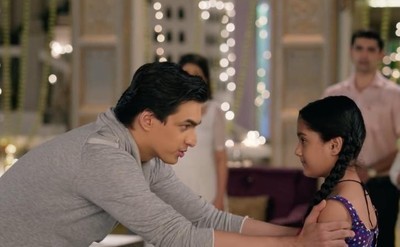 Yeh Rishta Kya Kehlata Hai: Kartik (Mohsin Khan) Naira's (Shivangi Joshi) to adopt Chori unaware she is Kaira
The upcoming episode of Star Plus longest running serial Yeh Rishta Kya Kehlata will showcase nice twist with Kartik Naira planning to adopt Chori who is their own daughter Kaira.
As Chori gets re-entry in Goneka Mansion, she is very happy to live with her Didi who in real is her mother Naira.
Naira feels connected to Chori but is unaware about her real identity.
Now Chori gets caught up in fire break down in Goenka Mansion where Kaira's medical reports were kept.
Kartik Naira touched with Chori's move
Naira cries as it was Kaira's last sign with her while Chori does not let it get burnt and saves the file.
Chori handover the file risking her life where Kartik Naira feels touched with her move.
Kartik Naira hence decides to adopt Chori being unaware that she is their real daughter Kaira.
Nevertheless the duo will also come to know that she is their daughter Kaira.
Let's see how Kartik Naira reacts on knowing this good news.
Latest Yeh Rishta Kya Kehlata Hai Updates