Yeh Rishtey Hai Pyaar Ke: Meenakshi target Kunal to sacrifice Kuhu as Abeer Mishti's surrogate (Upcoming Twist)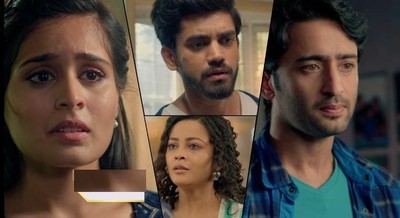 Yeh Rishtey Hai Pyaar Ke: Meenakshi (Rupal Patel) target Kunal to sacrifice Kuhu (Kaveri PRiyam) as Abeer (Shaheer Sheikh) Mishti's surrogate
The upcoming episode of Star Plus serial Yeh Rishtey Hai Pyaar Ke will witness major turning point in the storyline.
It was earlier seen that Meenakshi commits suicide as Abeer does not second marriage neither surrogacy but wants adoption.
Meenakshi is unhappy with the same while Abeer Mishti returns to Meenakshi.
Abeer and Mishti rethink on their decision of adoption.
While on the other side Meenakshi targets Kunal now seeing him weak.
New twist in Mishti Kuhu Abeer Kunal's life
Meenakshi requests Kunal to make Kuhu as Abeer Mishti's surrogate mother.
Kunal gets shocked hearing Meenakshi's decision but also finds it right.
It would be really interesting to see if Kuhu Kunal Abeer Mishti agrees for this decision.
Let's wait and watch for the upcoming twist in YRHPK.
Latest Yeh Rishtey Hai Pyaar Ke Updates