Yeh Hai Chahatein: Rudraksh turns angry man to beat Yuvraj for touching Prisha (Upcoming Twist)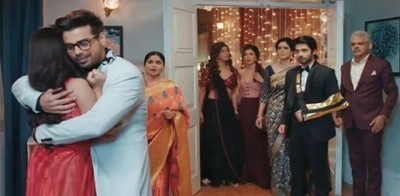 Rudraksh's (Abrar Qazi) angry man avatar gets into a deadly fight for Prisha (Sargun Kaur Luthra) in Yeh Hai Chahatein
Star Plus serial Yeh Hai Chahatein is looking forward for some more twists and turns in the story.
Rudraksh and Prisha have a grand party wherein Yuvraj has planned his dirty conspiracy.
Rudraksh is already pissed off at how Yuvraj danced intimately with Prisha that now Rudraksh bursts in anger when he sees Yuvraj Prisha in the bedroom.
Yuvraj plays his trick and intentionally hugs Prisha to create misunderstandings.
The situation will turn worse as angry Rudraksh will lose his temper and will beat Yuvraj ruthlessly.
Rudraksh's life in danger
What will happen next in Yeh Hai Chahatein is quite intriguing as Rudraksh gets into a deadly fight with Prisha.
Let's see what more will happen next in the show because Yuvraj gets revengeful and turns to kill Rudraksh dead.
Stay up to date with us for more updates and latest news.
Latest Yeh Hai Chahatein Updates