Yeh Rishtey Hai Pyaar Ke: Quick leap twist Kuhu makes Mishti's life miserable (Upcoming Twist)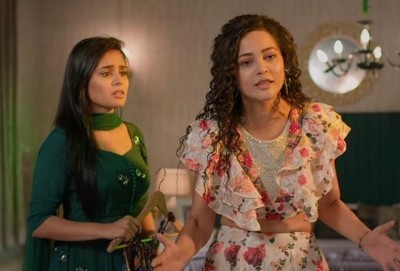 Yeh Rishtey Hai Pyaar Ke: Quick leap twist Kuhu (Kaveri Priyam) makes Mishti's (Rhea Sharma) life miserable
The upcoming episode of Star Plus serial Yeh Rishtey Hai Pyaar Ke will showcase shocking drama.
Earlier Kuhu was seen terminating her pregnancy.
But Meenakshi reaches Kuhu at nick of time and give her tactics to handle Mishti.
Kuhu warns Meenakshi to never give her child if she refuses to give anything to Kunal.
The shows takes a quick leap of few months where Kuhu is seen with baby bump and Mishti dancing to her tunes.
Kuhu takes Meenakshi's place in Rajvansh house where Mishti is equal to Parul handling all the house hold chores.
Kuhu's unwanted tantrums Mishti fails to control her
Kuhu throws unwanted tantrums and makes Mishti's life completely miserable.
Kuhu leaves no opportunity to prove Mishti that she can never get pregnant.
Abeer is hurt seeing broken Mishti but cannot do anything.
Stay tuned and keep reading serialgossip.com for more updates.
Latest Yeh Rishtey Hai Pyaar Ke Updates