Shaadi Mubarak: KT takes Preeti's first autograph awarded business women of the year (Future Story)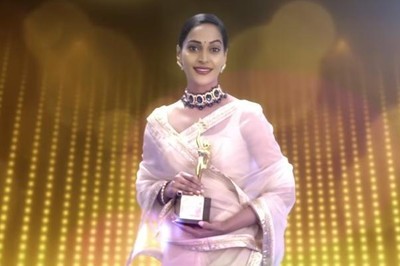 Shaadi Mubarak: KT (Manav Gohil) takes Preeti's (Rajashree Thaur) first autograph awarded business women of the year
Star Plus serial Shaadi Mubarak will showcase interesting twist and turn.
It was earlier seen that Rati Tarun Priyanka have teamed up to pose trouble to Preeti.
Rati and Tarun wants Preeti to lose the challenge and business so that she returns back home and turn out their maid at home.
While KT builds courage and support in Preeti.
KT is very much confident of Preeti who is extremely talented.
KT pushes Preeti in the dream world
KT pushes Preeti towards huge fame where he makes Preeti see big dreams and also pushes her towards success.
Preeti hence enters the dream world where she witness herself as the business woman of year getting a big award too in bold avatar.
Furthermore KT takes her first autograph in reality wishing success to her.
Let's see if Preeti's this dream comes true soon.
Stay tuned to entertainment news website serialgossip.com
Latest Shaadi Mubarak Updates