YRKKH: Gayu shoot sharp accusation on Naira over Kairav's upbringing unaware of Vansh's mistake (Upcoming Twist)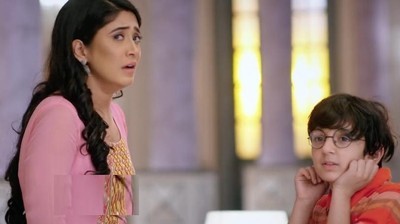 Yeh Rishta Kya Kehlata Hai: Gayu shoot sharp accusation on Naira over Kairav's upbringing
The upcoming episode of Star Plus longest running serial Yeh Rishta Kya Kehlata Hai will showcase shocking twist
Naira confronts Kairav over his step of stealing the gun
Kairav reveals the truth assuming that Naira will understand him
Before Naira could react Gayu reacts and brainwash Naira against Kairav
Naira gets mad and starts scolding Kairav.
Kartik handles the matter with ease Naira tensed
Naira gets so loud that Kartik, Manish Dadi Swarna everyone come to see what happened.
While Kartik handles the matter Gayu does not stop, she starts shooting sharp accusation on Naira for failing to handle Kairav.
Gayu blames Kairav for all the wrong being unaware of the fact that Vansh is the real master mind.
Let's see what happens next on the show.
Latest Yeh Rishta Kya Kehlata Hai Updates