Ishq Mein Marjawan 2: Vishal Vashishtha & Helly Shah royal looks for Kabir-Ridhima wedding (Latest Update)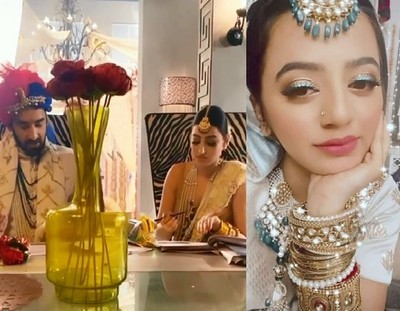 Ishq Mein Marjawan 2: Vishal Vashishtha & Helly Shah royal looks for Kabir-Ridhima wedding
Actors Vishal Vashishtha and Helly Shah exclusive looks for Ishq Mein Marjawan 2 upcoming twist is giving goosebumps.
Ridhima finally says yes to marry Kabir which comes forth as a huge shocker for everyone.
Ridhima's decision upsets Ishani, Dadi and Angre but Ridhima has no choice.
Ridhima wants to protect them from Kabir and thus agrees for the marriage.
The new montage of Ishq Mein Marjawan 2 is revealed where Vihaan replaced Vansh.
Besides this, serialgossip.com is posting the exclusive wedding looks of Vishal Vashishtha and Helly Shah for you.
Kabir and Ridhima's wedding
Kabir and Ridhima's marriage is on the head and Ridhima already made a deal with Vihaan against Kabir.
Stay updated with us for more updates and latest news.
Latest Ishq Mein Marjawan 2 Updates