Pinjara Khubsurti Ka: Mayura's best revenge on Omkar in disguise of cursed bride (Upcoming Twist)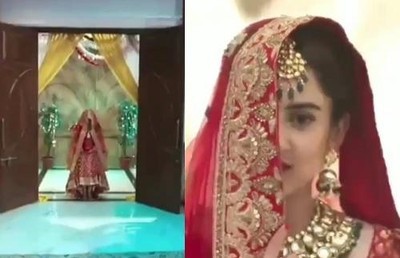 Mayura's begins the countdown against Omkar in Pinjara Khubsurti Ka
A lot more is going to happen in Omkar and Mayura's life in the upcoming twist of Colors TV serial Pinjara Khubsurti Ka.
Mayura swears to make Omkar life equal to hell after he killed Piyush to make her alone.
Mayura is not only going to take revenge from Omkar for he scarred her face, but she is going to make Omkar pay for killing Piyush.
Manjari wants to protect Omkar and calls brides for swayamvar of her son.
Manjari attempts to burn herself and blackmails Omkar to marry some girl and get rid of Mayura.
Mayura sees the poster of brides for Omkar and thus makes her entry in the house in the disguise of a bride along with other brides.
Mayura to make Omkar suffer
Mayura turns cursed bride for Omkar for she is going to make Omkar suffer the same hell that he gave her.
This is the best revenge Mayura could take from Omkar but let's see how Mayura will chase her victory against the evil,
Stay tuned with us for more updates.
Latest Pinjara Khubsurti Ka Updates