Ishq Mein Marjawan 2: Bang entry of Vansh amid Kabir Ridhima's wedding rounds (Latest News)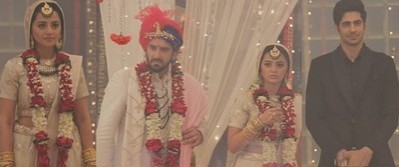 Ishq Mein Marjawan 2: Bang entry of Vansh to stop Kabir Ridhima's wedding rounds
Colors top TV show Ishq Mein Marjawan 2 will see Vansh aka Vihaan's bang entry in the upcoming twist.
Kabir proposes Ridhima to marry him and blackmails her to say yes.
Ridhima confesses to marry Kabir in lieu to protect Dadi and Ishan's life.
Ridhima meets Vihaan and cracks a deal with him.
Ridhima soon starts the training of making Vihaan as Vansh Raisinghania.
Kabir and Ridhima's wedding day arrives when Kabir and Anupriya are celebrating their victory.
A drastic storm hits the wedding mandap when the entire VR mansion fills up with smoke.
Kabir and Ridhima's wedding rounds stop while then comes the King Vansh Raisinghania shocking everyone to the core.
Kabir's all plans fail
Vansh makes his bang entry surprising everyone while Ridhima who already knows Vihaan smirks at Vihaan.
Vansh's blasting entry shivers Kabir and Anupriya and now let's see what big dhamaka will come next to next in Ishq Mein Marjawan 2.
Latest Ishq Mein Marjawan 2 Updates