Kundali Bhagya: Karan Preeta and Sameer Shrishti's Valentines Day (Upcoming Twist)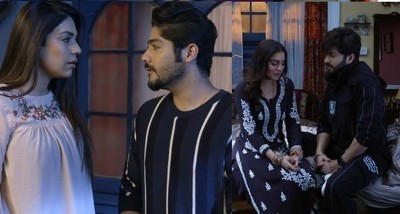 Kundali Bhagya: Karan Preeta and Sameer Shrishti's Valentines Day
The upcoming episode of ZEE TV serial Kundali Bhagya will showcase interesting twist and turn.
It was earlier seen that Preeta is living away from Karan hence Karan gets restless to meet her.
Karan like a thief enters Preeta's house and asks her to confess something.
Preeta is not ready to make any confession where Karan decides to go back to Mahira.
Hence Preeta stops Kara and was about confess love.
On the other side Sameer and Shrishti was also about to confess love for each other.
Karan caught as thief ruined Valentines Day
When some men on the road shout about the thief in Arora House.
Every one come running there only to catch Karan as thief.
Let's see when Karan and Preeta confess love for each other.
Stay tuned and keep reading serialgossip.com for ore updates.
Latest Kundali Bhagya Updates