Choti Sardarni: Raajan perplexed with Sandhya assumed alliance with Sarbjeet (Upcoming Twist)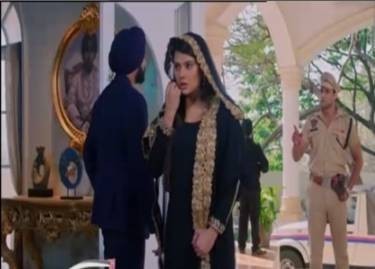 Choti Sardarni: Raajan perplexed with Sandhya assumed alliance with Sarbjeet
Choti Sardarni is one of the famous and most popular show of Colors Tv where upcoming track of the show will showcase major twist ahead.
As per ongoing track of the show Ram Yash Vardhan entered in show as Raajan Chautala who is playimg character of police inspector.
Raajana and his family is much irked with Sandhya's missing drama and planned that they will end Sandhya life.
In Reality Raajan is Sandhya's brother who entered in Amritsar to search Sandhya and in Amritsar meets with Sarbjeet.
Rajaan gets shocked eyeing Sandhya in Gill Mansion
However where further Rajaan gets shocked eyeing Sandhya in Gill Mansion where he assumed Sandhya having alliance with Sabjeet.
Will Raajan's this doubt of Sandhya Sarbjeet alliance cook mess in Gill Mansion?
It would be more interesting to see what will happen next in show.
Till then stay Tuned with us for more updates and exciting updates for your favourite shows.
Latest Choti Sardarni Updates