YRKKH: Dadi compels Kartik to marry Sirat (Latest News)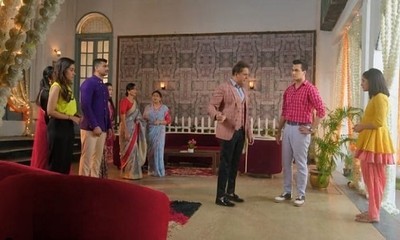 Yeh Rishta Kya Kehlata Hai (YRKKH): Dadi compels Kartik to marry Sirat
The latest story of Yeh Rishta Kya Kehlata Hai will see Kartik coming across a huge dilemma.
Manish wants Kartik to marry Rhea but suddenly out of the blue, Kartik thinks that Sirat is a perfect mother for Kairav and Akshu.
Manish and Kartik have a heated argument like never before.
Poor Kartik feels guilty for thinking to give Naira's place to Sirat.
However, Dadi is fully convinced with Sirat and now she wants Kartik to marry Sirat in reality.
Dadi and Kartik's emotional breakdown
Dadi makes Kartik understand that it is not his guilt but Naira's wish.
While Kartik breaks down in tears, Dadi compels Kartik to marry Sirat for Kairav's sake.
Will Kartik agree with Dadi's demand and everything will change in Kartik and Sirat's life or something tragic will happen.
Stay up to date with SERIALGOSSIP.COM for the next updates.
Latest Yeh Rishta Kya Kehlata Hai Updates