GHKKPM: Sayi unveils her master card against Bhavani Chavans (Upcoming Episode)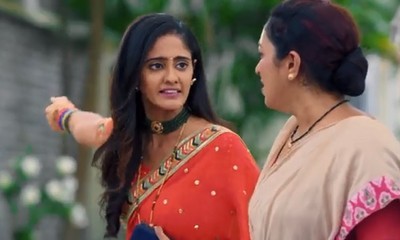 Ghum Hai Kisi Ke Pyaar Mein (GHKKPM): Sayi unveils her master card against Bhavani Chavans
The big twist in Ghum Hai Kisi Ke Pyaar Mein will come next in the show.
Sayi challenges the gut line of Bhavani, Virat and Pakhi and warns them to return their insult soon.
While everyone is sleeping for the whole night and Sayi keeps waiting outside the Chavan House,
The next morning, Sayi unveils her master card against Bhavani and the Chavan's.
Sayi crushes Bhavani's pride
Fearless Sayi exposes the Chavan family before society and reveals the dirty dark deeds that they did with Devyani and Pulkit.
Bhavani's pride crushes into dust when Sayi one by one exposes how cruelly they tortured Pulkit, Devyani and ousted their daughter-in-law (Sayi) out of the house in the middle of the night.
Where Sayi shocks everyone with the truth, Bhavani falls flat on the face.
Make sure to check out the latest updates at SerialGossip.com
Latest Ghum Hai Kisi Ke Pyaar Mein Updates