Kyun Utthe Dil Chhod Aaye: Veer increases proximity with Amrit acts ridiculous (Future Story)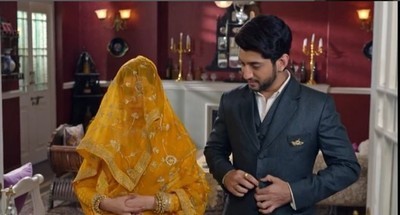 Kyun Utthe Dil Chhod Aaye: Veer increases proximity with Amrit makes ridiculous
Kyun Utthe Dil Chhod Aaye is Sony Entertainment Television's popular daily soap show bringing new twists and dramas in upcoming tracks.
As per latest track of the show Amrit (Gracy Goswami) and Veer (Kunal Jai Singh) are together where Veer was angry but later gets astonished as well as happy eyeing Amrit.
Shockingly bigger twist is still waiting for Randhir where Randhir also entered Raj Mahal at same moment but Amrit is unable to speak anything to him.
Veer gets close to Amrit showers love that not expected
However where further Veer gets more closer to Amrit where he showers love over her and tries to create proximity with her.
On other side Amrit who is there just for sake of family stays silent but warns Veer to stay away from her.
It would be interesting to see what will happen next in show.
Stay Tuned with us for more exciting updates and upcoming twists in the shows.
Latest Kyun Utthe Dil Chhod Aaye Updates