Shaurya Aur Anokhi: Babli Ahir ruin Shaurya Anokhi's love union in Goa (Upcoming Story)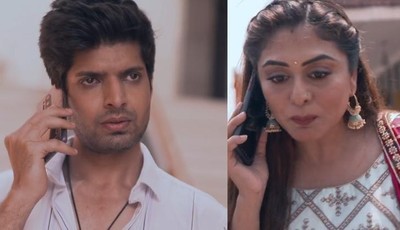 Shaurya Aur Anokhi: Babli Ahir ruin Shaurya Anokhi's love union in Goa
The upcoming episode of Star Plus popular serial Shaurya Aur Anokhi Ki Kahani will showcase interesting twist and turn.
It was earlier seen that Anokhi reaches Goa to look for Shaurya.
Anokhi is much restless as she fails to find Shaurya anywhere.
Hence she seeks Kanchan's help and used drone to locate Shaurya.
Finally Anokhi gets to see Shaurya and runs to him only to confess her love feelings for him.
Anokhi was about to confess love when Babli reaches there.
Babli furious over Anokhi crossing her limits in love for Shaurya
Babli is much furious on Anokhi as she is crossing her limits.
Babli and Ahir ruins all for Shaurya and Anokhi's love union.
It would be interesting to see what happens next on the show.
Stay tuned to serialgossip.com for more updates.
Latest Shaurya Aur Anokhi Ki Kahani Updates