Kyun Utthe Dil Chhod Aaye: Veer- Amrit nurtures new relationship ahead (Future Story)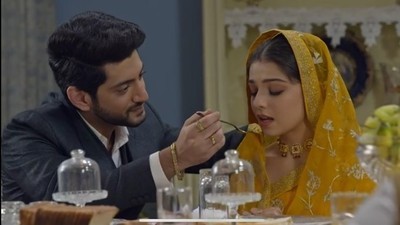 Kyun Utthe Dil Chhod Aaye: Veer- Amrit nurtures new relationship ahead
Kyun Utthe Dil Chhod Aaye is Sony Entertainment Television's popular daily soap show bringing new twists and dramas in upcoming tracks.
As per latest track of the show Amrit (Gracy Goswami) and Veer (Kunal Jai Singh) having family time together where they are following their deal.
Amrit wanted Veer to keep distance from him where later during dining with family Rani Maa defames Amrit while Veer consoled her.
Amrit Veer proximity ahead, nurtures new relationship
Later Amrit and Veer grooved proximity with each other where no doubt Amrit wanted him to keep distance but duo grooved bond of friendship.
On other side, Veer is showing wifey rights over Amrit where Amrit is not ready for all this.
Will Amrita and Veer's relation get hiked again?
It would be interesting to see what will happen next in show.
Stay Tuned with us for more exciting updates and upcoming twists in the shows.
Latest Kyun Utthe Dil Chhod Aaye Updates