Mehndi Hai Rachne Wali: Amma rocks compels Raghav to marry Pallavi (Upcoming Episode)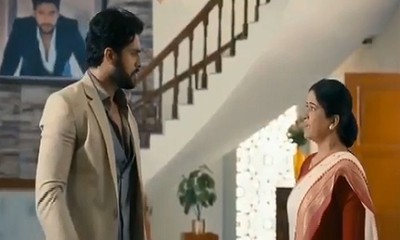 Mehndi Hai Rachne Wali: Amma rocks compels Raghav to marry Pallavi
The very exciting twist in Mehndi Hai Rachne Wali is about to happen next in Raghav and Pallavi's life.
Raghav takes his revenge on Pallavi when he defames her in Deshmukh family and exclaims their love affair.
Vijay ousts Pallavi from the house whereafter Raghav and Pallavi come face to face.
Pallavi swears to make Raghav pay back for his sins one day.
Meanwhile, Raghav who wants his Amma and Keerti to move into the RR mansion requests Amma to accept him.
Amma rocks and shocks Raghav when she puts a condition before Raghav in lieu to shift in RR mansion.
Raghav and Pallavi's marriage to begin
Amma asks Raghav to marry Pallavi and bring her to the Rao mansion.
Where Amma's demand is quite shocking to Raghav, Raghav agrees to Amma after all he loves her and this is the first time when Amma agreed to live with him.
How interesting Raghav and Pallavi's marriage will be, to know this, keep reading entertainment news website Serialgossip.com for everyday updates.
Latest Mehndi Hai Rachne Wali Updates