Mehndi Hai Rachne Wali: Amma announces Raghav-Pallavi's wedding (Upcoming Twist)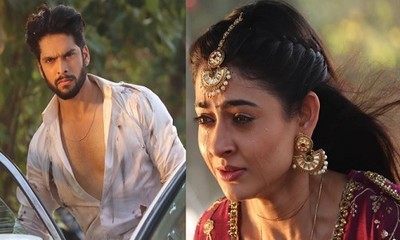 Mehndi Hai Rachne Wali: Amma announces Raghav-Pallavi's wedding
Raghav and Pallavi's wedding gala is about to start in the latest story of Mehndi Hai Rachne Wali.
Earlier seen how Raghav and Pallavi get on the loggerheads and the misunderstandings turn them, big enemies.
However, Amma isn't ready to let so much injustice happen to Pallavi.
Thus, Amma plays a smart move when she puts a condition before Raghav in lieu to shift in RR Mansion.
Raghav and Pallavi's new challenge
So, Amma demands Raghav to marry Pallavi, and then only she and Keerti will shift with him.
While Raghav is shocked at Amma's huge demand, Raghav ultimately agrees after all he doesn't want to let Amma go.
So, Amma announces Raghav and Pallavi's wedding and interestingly Pallavi will agree after all it's a matter of revenge.
Stay tuned to entertainment news website Serialgossip.com for more updates and the latest news of top TV shows.
Latest Mehndi Hai Rachne Wali Updates