GHKKPM: Virat breaks forth Ashwini confessed big (Upcoming Twist)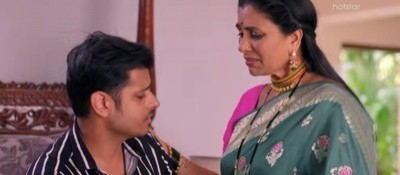 Ghum Hai Kisi Ke Pyaar Mein: Virat's emotional breakdown forth Ashwini reveals big
Ghum Hai Kisi Ke Pyaar Mein is Indian tv drama which telecasted on Star Plus, where its upcoming track of the show will bring much drama and suspense in the show.
As per latest track of show Virat is much hurt as Sayi is not with him and he did not wanted to force Sayi for anything.
Amid all this Virat is suffering pain of staying away from Sayi and unable express his pain forth anyone.
Virat breaks forth Ashwini, shares pain of separation from Sayi
Where further, Virat gets emotional forth Ashwini where he cries and wanted his mother not to force Sayi to come back,
Sayi will realize love for Virat by herself and he will win Sayi heart to bring her back to Chavan.
It would be interesting to see what will happen next in the show.
Stay tuned with us for more exciting updates and upcoming twists in the show.
Latest Ghum Hai Kisi Ke Pyaar Mein Updates