GHKKPM: Bhawani challenges Sayi for upcoming storm of betrayal (Upcoming Twist)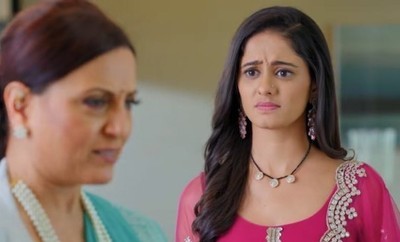 Ghum Hai Kisi Ke Pyaar Mein: Sayi and Bhavani's heated argument, Sayi disclosed big truth
Ghum Hai Kisi Ke Pyaar Mein is Indian tv drama which telecasted on Star Plus, where its upcoming track of the show will bring much drama.
It was seen that Sayi called Devyani and Pulkit to Chawan house for post marriage rituals where Bhavani is much irked with this.
Later Sayi gives big life lesson to Bhavani that she sent Devyani baby girl to orphanage where she is still with Pulkit and her name is Harini.
Bhavani life lesson to Sayi about love and life
However where further Bhavani gives lesson to Sayi that this love amid Devyani and Pulkit is not life long as DEvyani is not mentally alright.
Not only this, Bhavani challenged Sayi that Pulkit and Devyani will get separated soon where Sayi gets shocked that how Bhavani is doing all this.
What will be further twist in this mission bringing Bhavani back on track by Sayi.
Stay tuned with us for more exciting updates and upcoming twists in the show.
Latest Ghum Hai Kisi Ke Pyaar Mein Updates