Mehndi Hai Rachne Wali: Raghav Pallavi first night turns into horror nightmare (Upcoming Episode)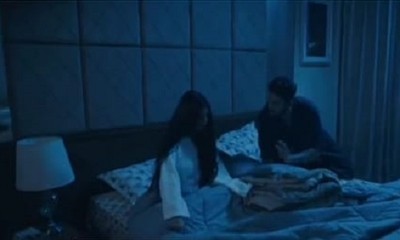 Mehndi Hai Rachne Wali: Raghav Pallavi first night turns into horror nightmare
The amazing story of Star Plus TV serial Mehndi Hai Rachne Wali is looking forward for Raghav and Pallavi's romantic night in same bedroom.
Raghav returns home to stay the night when Pallavi and Raghav have to share same room.
Interestingly, Raghav doesn't leave the bed and goes stubborn to sleep on the same bed.
The comic twist comes when in the midnight Pallavi gets a scary nightmare and starts shouting like some possessed evil spirit
Raghav gets scared of Pallavi and tries to calm her when Pallavi grabs Raghav from his neck punches in his stomach.
Raghav and Pallavi's cute fight
Pallavi scares Raghav to the core as Raghav falls back leaving the bed.
How Raghav will now sleep with Pallavi after getting Pallavi's punch is super exciting to watch next in Mehndi Hai Rachne Wali.
So, make sure you don't miss the next update at SerialGossip.com
Latest Mehndi Hai Rachne Wali Updates