GHKKPM: Karishma happy knowing Pakhi Virat Sayi's spiced love story gossip (Upcoming Episode)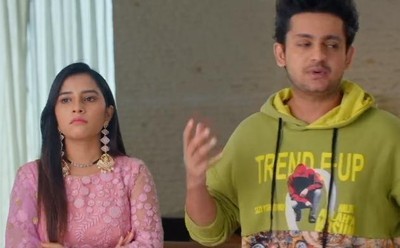 Ghum Hai Kisi Ke Pyaar Mein (GHKKPM): Karishma happy knowing Pakhi Virat Sayi's spiced love story gossip
The upcoming episode of Star Plus popular serial Ghum Hai Kisi Ke Pyaar Mein will showcase an interesting twist and turn.

It was earlier seen that Karishma since the very beginning had doubt on Virat Pkahi's love.
But she never got evidence since Pakhi agreed to marry Samrat.
Virat had asked Pakhi to marry Samrat and he promises her that he will never give place to new girl in his heart.
Sayi opens the entire story of Virat Pakhi and Samrat clearly
Finally Sayi opens up the entire story to Chavhan family about Virat Pakhi's old love story and Samrat the reason behind Samrat missing from home.
Karishma gets happy to finally get to know about Pakhi Virat Sayi's spiced love story gossip.
It would be interesting to see what happens next on the show.

Stay tuned to popular entertainment website serialgossip.com
Latest Ghum Hai Kisi Ke Pyaar Mein Updates