Kumkum Bhagya: Tanu slips into dilemma eyeing Pragya back (Future Story)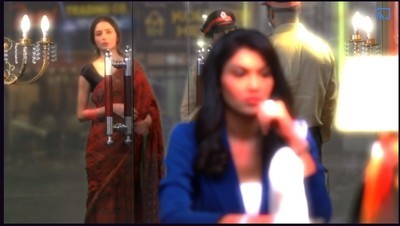 Kumkum Bhagya: Tanu baffled eyeing Pragya , fears of her meet with Abhi
Kumkum Bhagya is popular show telecasted on Zee Tv, which is up for some interesting twists and turns ahead in the show where Pragya has returned back, where she is locating Mehra family.
Latest track showed how Pragya has too retuned back to India where she decided to take revenger from them and gets into mission to locate them.
Where further Suhma and Pragya are in hotel for meal where Pragya gets baffled listening Abhi's voice.
Tanu google eyed eyeing Pragya back fears of losing abhi
Where further Tanu gets shocked eyeing Pragya as she thought that Pragya is no more and at same fears that abhi is in same hotel.
This throws Tanu in major dilemma as she never thought that Pragya can ever come back to them.
It would be interesting to see what will be next Twist in show Kumkum Bhagya.
To catch stay tuned with us for more updates and exciting twists in other shows too.
Latest Kumkum Bhagya Updates