Shaurya Aur Anokhi: Shaurya and Anokhi's grand wedding in SIAC (Upcoming Episode)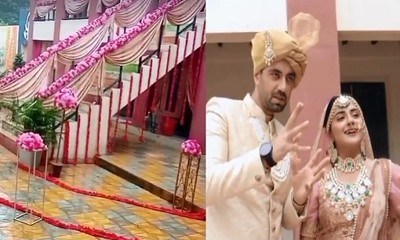 Shaurya Aur Anokhi Ki Kahani: Shaurya and Anokhi's grand wedding in SIAC
The latest story of Star Plus most favorable TV show Shaurya Aur Anokhi Ki Kahani will see Shaurya and Anokhi's wedding with an intriguing twist.
So, Tez propones the exam to stop Shaurya and Anokhi's wedding.
However, Anokhi doesn't step back but she decides to give her exam and also marry her love.
Anokhi rushes to the SIAC and gives her Sociology exam.
Because the exam is at the same time as of wedding mohrat, Shaurya takes an unexpected move to marry his lady love.
Shaurya and Sabherwals Baaraat reach SIAC
Interestingly, Shaurya brings his baaraat in the SIAC and makes all the wedding arrangements there.
Shaurya's big surprise is going to get Anokhi overwhelmed as this is what she wouldn't have dreamt.
Get ready to see Shaurya and Anokhi's grand wedding in SIAC and Tez's drastic defeat.
So, Make sure you follow us at SerialGossip.com so you don't miss the next big twists.
Latest Shaurya Aur Anokhi Ki Kahani Updates