GHKKPM: Sayi's trump card forced Chavans to attend College Function (Upcoming Episode)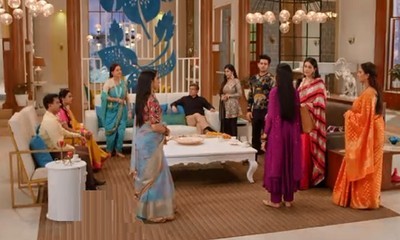 Ghum Hai Kisi Ke Pyaar Mein (GHKKPM): Sayi's trump card forced Chavans to attend College Function
The upcoming episode of Star Plus TV serial Ghum Hai Kisi Ke Pyaar Mein will see Sayi throwing her trump card against the Chavan Family.
It is seen that how Sayi is preparing for her college function wherein she is performing her dance with Ajinkya.
At the same time, Sayi wants the Chavan Family to attend the function.
However, the Chavans insult Sayi's college function and refuse to be a part of such a time-waster.
Sayi is adamant to get the family in college when she challenges them.
Sayi challenges Chavan
Interestingly, Sayi's trump card to make the Chavans attend the college function is her suicide drama.
The Chavans have accepted the challenge compelling they will not attend the college function at any cost but Sayi knows how to convince them.
Sayi's suicide drama is the next intriguing twist in the storyline.
So, make sure you don't miss the next update at SerialGossip.com
Latest Ghum Hai Kisi Ke Pyaar Mein Updates