Sasural Simar Ka 2: Simar- Aarav romantic dinner date against Gitanjali will (Upcoming Story)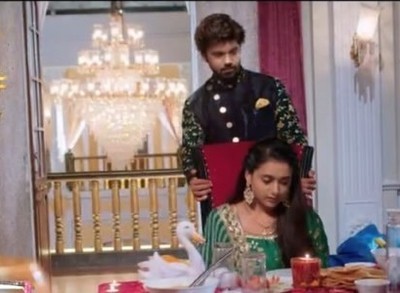 Sasural Simar Ka 2: Simar- Aarav romantic dinner date against Gitanjali will
Sasural Simar Ka 2 is interesting show telecasted on Colors Tv which is up for some interesting twists and turns ahead where Gitanjali is all upto break Simar and Aarav's relation.
It was seen that Aarav finally decided to give divorce to Simar where later Aarav also handed divorce papers to Simar and wanted her to sign these papers.
Not only this, Aarav wanted Simar to sign these papers and clear off all the debt that she owes Oswal family.
But at same Aarav and Simar decided that they will do all husband and wifey duties for month with full dignity and loyalty.
Simar and Aarav dinner date ahead post Gitanjali's humiliation
Where further, Simar is about to sit at chair for dinner where Gitanjali humiliated Simar and throws her out of dining area.
Owing to which, Aarav also leaves the diner and later Simar and Aarav did their dinner in their room.
Doesn't it look much romantic where duo fed each other and later Simar also cleared Aarav's face.
It would be interesting to see what will be next Twist what will Narayn family ahead decision.
To catch stay tuned with us for more updates and exciting twists in other shows too.
Latest Sasural Simar Ka 2 Updates