Anupama: Anupama in Vanraj's disguise Samar perplexed (Upcoming Twist)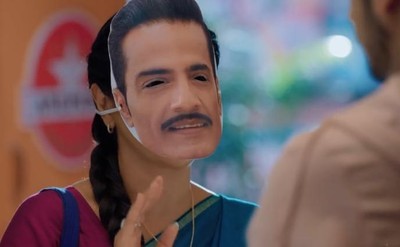 Anupama: Anupama in Vanraj's disguise Samar perplexed
The upcoming episode of Star Plus popular serial Anupama will showcase an interesting twist and turn.
It was earlier seen that Samar was disappointed with Anupama helping Vanraj.
Samar reminds Anupama the way Vanraj ousted Anupama from Shah House humiliated her every now and then where he later broke her trust too by having an affair with Kavya.
Samar does not want Aupama to help Vanraj when Anupama also agrees and decides to turn like Vanraj.
Hence Anupama wears face mask just like Vanraj and comes in front of Samar explaining to him that now she will be the next Vanraj Shah.
Samar wants Anupama to be Anupama only
Samar gets perplexed as he wants Anupama to remain Anupama and not turn Vanraj.
Samar throws away the mask and hugs mother Anupama.

It would be interesting to see what happens next on the show.

Stay tuned to serialgossip.com for more updates.
Latest Anupama Updates