Ghum Hai Kisi Ke Pyaar Mein: Ajinkya gatecrashing brings turmoil in Virat Sayi's life (Upcoming Twist)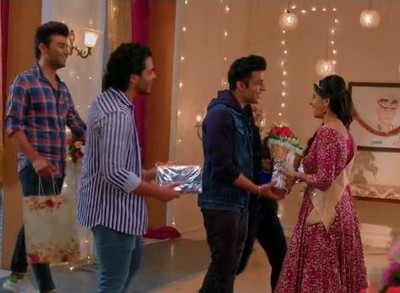 Ghum Hai Kisi Ke Pyaar Mein (GHKKPM): Ajinkya gatecrashing brings turmoil in Virat Sayi's life
Ghum Hai Kisi Ke Pyaar Mein is a popular show telecasted on Star Plus, which is up for some interesting twists and turns ahead in the show where Ajinkya will be seen marking his uninvited entry in Chavhan Niwas to bring major turmoil in Virat Sayi's life.
As per the latest track, it is seen that Virat gives back to back surprises to Sayi leaving her overwhelmed to the core.
Sayi just cannot believe all the good things happening with her and feels like she is dreaming in real.
Virat tries to confess his love for Sayi but Harini and Ashwini break their love moment and the love confession gets delayed once again.
Before Virat could try to get close to Sayi her college friends Ajinkya and gang gatecrash Chavhan Niwas.
Sayi welcomes Ajinkya against Virat's wishes
Sayi feels Virat has planned this surprise too while Virat did not invite them and their entry upsets both Virat and Sayi.
Sayi cannot upset her friends and hence she welcomes them home which leads to major turmoil in Virat Sayi's life.
It would be interesting to see what happens next on the show.

Stay tuned to serialgossip.com for more updates.
Latest Ghum Hai Kisi Ke Pyaar Mein Updates