Barrister Babu: Bondita will remind you of Deepika Padukone from Chennai express (Latest Update)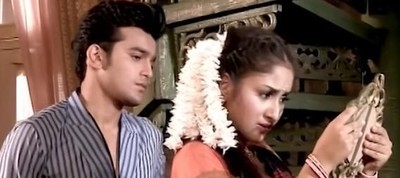 Barrister Babu: Bondita will remind you of Deepika Padukone from Chennai express
Colors Tv popular show Barrister Babu has kept the viewers in the edge of their seat with its engaging yet progressive storyline.
In the upcoming episode of the show Bondita will be seen shouting at Anirudh in her south accent.
Bondita's actions, words and looks will remind you of 'Minamma' from Chennai express.
Vaijanti will be seen taunting Anirudh for meeting in her in private.
Besides, she will put all her efforts to make Anirudh reveal his feelings for Bondita.
Bondita flirts with Anirudh
Vaijanti tells Anriudh that she will meet someone and confess her feelings to him.
Moreover, Vaijanti tries to gain Anirudh's attention and asks him if she is looking pretty.
She is happy to learn that Anriudh still loves Bondita and she decides to confess her feelings to him finally.
Are you excited for this twist in the show? Stay tuned for more updates on SerialGossip.com
Latest Barrister Babu Updates