Woh Apna Sa: Nisha's evil duple avatar to spoil Jhanvi's image amid Jindal family (Upcoming Episode)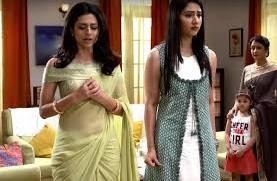 Woh Apna Sa: Nisha's (Ridhi Dogra) new trap to spoil Jhanvi's (Disha Patani) image amid Jindal family
Zee Tv's well admired and popular show Woh Apna Sa is all set to bring forward the unlimited dose of drama suspense and exciting twist and turns in the upcoming episodes.
In the upcoming track the show will revolve around Jhanvi (Disha Patani) and Nisha (Ridhi Dogra).
Nisha will plan a new evil trap to portray Jhanvi's image in a negative light in front of Jindal family.
Nisha's trap takes Jhanvi's avtar
Nisha will dress up like Jhanvi and go to Baba Saa (Vikram Sahu) and cries amid him.
As Baba Saa will not be able to see Nisha clearly, she harasses Baba Saa and say bad words about Jhanvi.
She says that I (Jhanvi) have ulterior motives to take away Jindal's property and money.
Will this move of Nisha creates a new trouble for Jhanvi?
It would be enthralling to watch the next as to how Jhanvi will escape herself form this havoc.
Stay update with sertialgossip.com for more exciting updates in the storyline.
Latest Woh Apna Sa Updates