Kyun Utthe Dil Chhod Aaye: Vashma inks Farooq name on Amrit arm with hot iron (Upcoming Episode)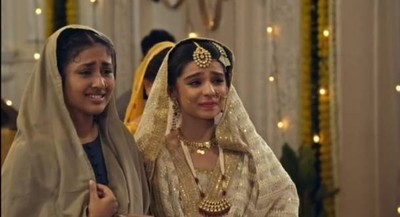 Kyun Utthe Dil Chhod Aaye: Randhir (Zaan Khan) escaped with Radha, Amrit (Gracy Goswami) trapped again
Kyun Utthe Dil Chhod Aaye is Sony Entertainment Television's popular daily soap show bringing new twists and dramas in upcoming tracks.
As per ongoing track of the show Randhir gets into action to safeguard Amrit, Vashma and Radha and turned as Faqir.
Amid all this, Randhir escaped Radha from there in boy look where Farooq gets more devious post knowing truth of Radha and Randhir.
Farooq punishment for Amrit uses Vashma over same
Where further Farooq is much irked with all this where he wanted Vashma to ink his name on Amrit arm with hot iron.
Farooq warned else he will harm Vashma baby where Vashma accepted Farooq demand over the same.
Will Amrit able to escape from there?
It would be interesting to see what will happen next in show KUDCA.
Stay Tuned with us for more exciting updates and upcoming twists in the shows.
Latest Kyun Utthe Dil Chhod Aaye Updates